Sensilla Candles is having a huge May. We are preparing for a huge event…..Big Vegan Market on Sat 13th May. We are also having a lot of markets leading up to Mother's day so check out the locations near you.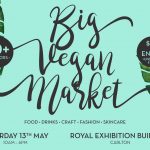 This event is going be awesome and as we like to reach out to all customers that our candles are ecofriendly and vegan friendly. Come see Sensilla Candles for a visit and sniff some of the amazing aromas.
Even if you are not a vegan, I think this event can be a great start on how to incorporate more veggies and slowly incorporating meat-free meals at your household. The line up of food and craft stalls are so impressive.
Check out the event HERE and hit 'going' to share the love :).
Be kind.
Choose quality, choose Sensilla Candles